Who we are
Who are we?
Kinés du Monde is a French non-profit and non-governmental organization created in 1987.
150 members (including volunteers in the field), 
52 sponsors,
91 donators, 
2 part-time office workers.
From physio to reeducator
'Kinés du Monde' is an association of physiotherapists but not only. Today, our teams are multidisciplinary. Occupational therapists, psychomotor therapists, ortho-prosthetists... each one brings his or her skills to the service of the most vulnerable. All are part of the rehabilitation professions. The pluralistic nature of our teams allows us to provide comprehensive care to our patients. We are the "Rehabilitators in Motion".
Members
They can contribute to the association's activities in different ways:
- by helping with administrative work, fundraising, organization of local events, etc.;
- by volunteering and participating in field missions (the prerequisite being that they are health professionals).
Head office
The head office is hosted by Grenoble city council (France) in premises shared with 7 others NGO in an International Solidarity Pole.
Kinésithérapeuthes du Monde
5, rue Federico Garcia Lorca - 38000 Grenoble - FRANCE
Tél.: +33 (0) 4 76 87 45 33
Email: contact@kines-du-monde.org
Website: www.kines-du-monde.org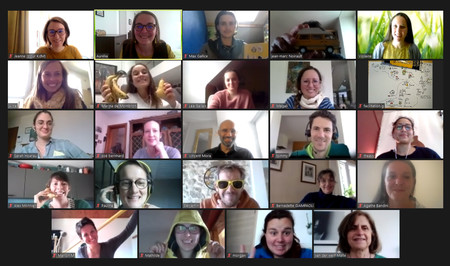 visio Assemblée Générale Kinés du Monde - 22/05/2021