Morocco
Kinés du Monde has been involved in Morocco since 2008 with long-term follow-up interspersed with short missions in the field. The scope encompasses training of local teams and advice for fitting out their premises. Following a request from the Isère local government body (Conseil Général de l'Isère), it was decided that Kinés du Monde and its partner A.M.D. (Aide Médicale et Développement) would manage the construction of a new medical educational institute. The mission started when the land was purchased.    
Location:
Beni Mellal, Middle Atlas
Global goal:
Contribute to the improvement of the care standard offered to disabled children in the Middle Atlas region.
Specific goal:
Build a medical educational institute, which will dispense adequate care for children under treatment in Bayt Bahia center.
Partners:
-  Isère local government body (Conseil général de l'Isère), within the framework of its cooperation with the Tadla-Azila region.
- Local association Bab el Kheir dedicated to abandoned children waiting for adoption.
- Local association Bayt Bahia dedicated to disabled children in Bab el Kheir.
Target group:
Bayt Bahia center's abandoned and disabled children.
Mission's information: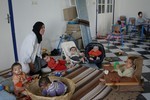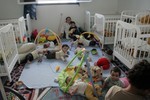 Within the framework of the decentralized cooperation agreement between Conseil Général de l'Isère and Conseil Régional de Tadla Azilal, Kinés du Monde brings its expertise to the project and provides help with diagnosis, life plan, rehabilitation care and settlement of children.
We have appealed to a wide range of expertise from the building trade in order to conceive the layout of an adequate building. The blueprints of the future center have now been finalized.
Once the center is completed and, depending on the expectations of our local partner, Bayt Bahia, future actions can be envisaged (such as support to the smooth running and organization of the new structure).