Localization
Stepanakert, capital city of Nagorno-Karabagh (a de facto independent republic situated in Azerbaijan).
Partner
Cox rehabilitation center aims at providing care to disabled people as well as supporting social reinsertion and promoting patient autonomy.
The center was named after the Baroness Caroline Cox who has long been campaigning for causes relating to disability.
Information about the mission
There are currently no volunteers in the field.
The mission has entered its second phase: four volunteers (Vincent, physiotherapist 6 months; Astrig, speech-language pathologist 15 days; Fanny, physiotherapist 4 months; Nadège, occupational therapist 3 months) took it in turns to supplement and strengthen knowledge and competencies of Lady Cox rehabilitation center staff so that it becomes a reference center in the country.
A new curriculum (financially supported by the Jinishian Memorial Foundation - JMF) has also been set up to make rehabilitation care more widely and more quickly accessible in the whole country. The twelve newly graduated physiotherapists will be employed from July onward in the various regional hospitals (Stepanakert, Hadrut, Martuni and Martakert). The latest report issued by JMF for follow-up purposes shows that the training is progressing well. 
As soon as the physiotherapists are assigned to hospitals (from September on), volunteers will be sent into the field to accompany the newly trained professionals in their settlement at hospital (patients, rehabilitation, equipment). They will also work towards developing strong links with the medical and paramedical staff in each structure.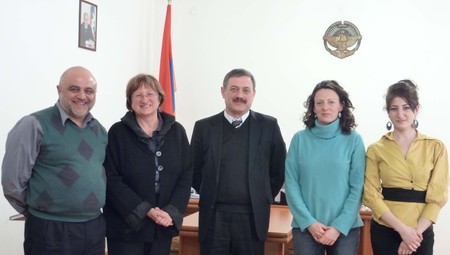 We wish to specifically thank Mr Tadevosyan, as well as the ministry of healthcare, for their warm welcome and their commitment in both improving rehabilitation care for people with a handicap and promoting rehabilitation at large.