Comoros
Mission's main goal:
Carry out an evaluation mission with the intention of creating  a long-lasting physiotherapy programme in Comoros.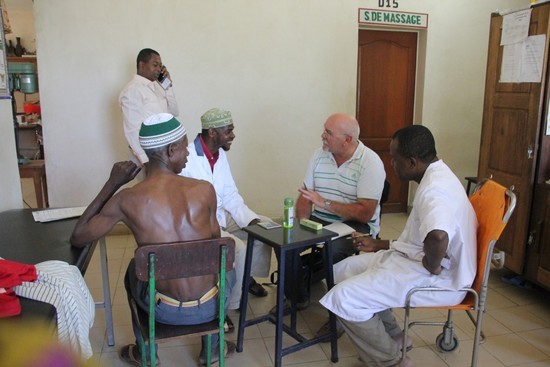 Global goal:
Provide support to both civil society and authorities in addressing handicap prevention, promotion and treatment in Comoros until 2020.
Specific goal 1: 
Teach rehabilitation to knowledgeable staff (physiotherapy, orthotics, rehabilitation medicine).
Specific goal 2:
Expand equipment capacities in Comoros six hospitals as well as in the Caritas health center.
Specific goal 3: 
Organize and support associations promoting rehabilitation.
A three-phase program:
1. Set up a physiotherapy curriculum at university level in Comoros (initial and ongoing training of physiotherapists, orthotists / prosthetists and rehabilitation medicine physicians).
2. Reinforce rehabilitation equipment capacities in five hospitals
3. Put together an integrated offer in rehabilitation care
The 15-day-long mission in April 2015 aimed at getting ready for the first class of physiotherapists, whose training is due to start in September 2015. The curriculum is hosted at the School of medicine and public health of Comoros University and gets support from Grenoble rehabilitation school.
A volunteer sent by Kinés du Monde will supervise the organization of the first teaching year onsite. Experts will be in charge of teaching the various modules. 
A research project, aiming at studying the changes in the perception of handicap and carried out in families with disabled children, has been launched in cooperation with researchers at Grenoble hospital.
Study group:
Ms Camille PETIT, president Kinés du Monde
Ms Laëtitia CAMBON, project coordinator Kinés du Monde
Ms Aline BOUFFENDEAU, physiotherapist and volunteer Kinés du Monde, in the field until june 2016
M Tristan LIVAIN, teaching advisor Kinés du Monde